Contact zeno about featuring your book or article in Debriefings.
From: "Of War & Weddings: A Legacy of Two Fathers"
Chapter Ten: The 78th Fighter Squadron
The following exerpt is Jerry Yellin's first person account of his days as a fighter pilot with the 78th Fighter Squadron in the PTO.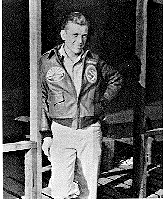 Jerry on Iwo in 1945.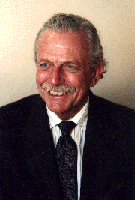 Jerry Yellin today.
Jerry lives in Fairfield, Iowa with Helene, his wife of 49 years. He is a partner in LISCO, a local Internet service provider to rural towns in Iowa. He is the President of the 7th Fighter Command Association of the 7th and 20th Air Force
Chapter Ten: The 78th Fighter Squadron
Ten days after graduation, I sailed under the Golden Gate Bridge on a merchant marine freighter. We were loaded with empty gasoline drums and worried about submarines until we arrived in Hawaii a few days later. I reported to the 78th Fighter Squadron in Haliewa, on Oahu. My classmates, Sherren, Roseberry, and Ruby, arrived shortly afterwards. We were told that we would receive fifty hours of training before being shipped out to a combat zone. It was October 1943, and the Pacific offensive was beginning at Makin and Tarawa atolls in the Marshall Islands.
I was assigned to the wing of Vic Mollan, in JimTapp's flight. Every day we flew our P-40s on simulated combat missions, one day dive-bombing targets inthe sea, other days strafing, always flying in formation. We had been trained as pilots in the States, but now we honed our skills and became combat pilots.
We flew hard in training, under conditions that were as close as possible to those we would face in actual battle. We new simulated air-to-air missions against other Air Corps squadrons as well as against the Navy. The rivalry between the services was intense, and we enjoyed dogfighting against the Marines in their F4U Corsairs and the Navy in their F6F Hellcats.
On one individual aerial mission against Vic Mollan, I tried too hard to get on his tail and entered into a high-speed spin. I spun down through the clouds and came out of the spin heading through the Pali, a mountain pass. Luckily, I was going in the right direction, or I would have been plastered against the side of the mountain.
The basic formation of a night was four planes split into two pairs called elements. The first pair consisted of the flight leader and his wing man; the second, the element leader and his wing man.
When the flight leader wiggled the tail of his plane, the element leader and his wing man would slide off, taking a position several hundred yards away. Then, when the flight leader turned toward his element, they would each have an opportunity to scan the sky to the rear of the flight and take up opposite positions as the planes crisscrossed the sky. This maneuver, known as "mutual support," allowed the pilots to look out for one another.
On one such mission in December 1943, in Mokuleia, Howard Edmonson collided with our Squadron Commander, Major Bill Southerland. Southerland was killed. Edmonson bailed out and survived -- but only for a few months.
When I joined the 78th, Edmonson was a class or two ahead of our group. He was several years older than me, a married man, more experienced in the world. At twenty-three or twenty-four, he seemed to belong to another generation. Howard became pretty close to my cadet buddies, RoseberIy, Ruby, and Sherren, because all four of them were from Iowa.
Although Howard and I never did become close friends, we were linked by a common trait that set us apart from most others -- we didn't drink. Once a month, every officer received a fifth of whiskey as part of our rations. Because I wasn't a drinker, I either gave it away or traded it for something else.
Not being a drinker left me out of many of the social activities in the service. I was never really comfortable in situations that required alcohol as the catalyst forconversation and camaraderie. This set me apart from my squadron mates and perhaps kept me from getting close to many of them.
For his own reasons, Howard was similar. He was a religious, serious, young man, a Bible-toting Christian, what we called an "early-to-bedder, do-gooder" kind of guy. Never in my civilian life had I met anybody with that kind of religious fervor.
Shortly after I joined the squadron in Hawaii, Howard received a letter with disturbing news from one of his friends in the States. What that news was, we never found out, but he started to drink He went completely the other way. I remember Sherren, Ruby, and Roseberry all trying to console him and get him straightened out, but nothing eased his torment.
On that flight in December 1943, Howard had the midair collision that killed Major Southerland. Several months later, in June 1944, flying a P-47, he slammed into the side of a mountain and died in a fiery crash.
Perhaps he didn't kill himself intentionally, but he flew when he was not supposed to fly, under conditions in which he knew he shouldn't fly. He had been drinking the night before. Alcohol and flying don't mix.
During our training in a ground pressure tank that simulated high altitudes, the trainer asked for a volunteer to take his mask off so we could see the effect of lack of oxygen, and why it was important to wear an oxygen mask when flying over 10,000 feet. When you fly to higher altitudes, you develop a short- age of oxygen in your blood, a condition in your blood, a condition known as anoxia. Alcohol does the same thing: it absorbs the oxygen, and that's what gives you the dizzy feeling.
Bob Ruby took his mask off at "10,000 feet," and the instructor said, "Okay, write your name." He wrote "Robert C. Ruby." But as pressure took us up a little higher, he wrote "Robert C. Robert," then "Ruby Ruby Ruby." As we kept getting higher, he kept getting more and more drunk, until his fingers started turning blue and then his oxygen mask was replaced. Edmonson was the first soldier I knew who was killed. His death was the first hint -- and it was just a hint, no more than that -- of the reality of war. We were boys, eighteen, nineteen years old, on an adventure, flying expensive airplanes, seeing the world. We had no idea what war was like.
Thinking about this, I put the scrapbook down and went to the kitchen, heated up some water, and made myself a cup of coffee. The night was quiet, but not my heart. I walked around the living room holding the cup in my hand for awhile, then sat down again and turned the page.
The picture I saw was one that had always made me proud. It was me, standing next to my first plane, the Dorrie R, with my name painted on its side.
Our fifty hours of combat training passed quickly, and I was promoted to First Lieutenant and given my first plane. Hating the Japanese as I did, I was eager to move into a combat squadron. I wanted to be in the war and at them . . . but for the present I had to remain in Hawaii with the 78th Fighter Squadron, flying Island Defense and training other pilots in maneuvers.
Some of the pilots of 78th had been based at Wheeler Field on the day Pearl Harbor was attacked and had suffered the first casualties in World War II. On August 15, 1941, the last day of the war, I was in the air with the 78th over Japan. We lost one pilot. He may have been the last casualty of the war.
All of us in the squadron felt that the 78th was the best outfit in the military. And it wasn't just a feeling. We had a reputation in the service for being the best fliers, and our combat records attested to that. Jim Tapp, our squadron leader, shot down four airplanes the first time he was in combat. Tapp was without question the best pilot in the Air Force, at least in the Pacific.
Todd Moore--we called him "Baby" Moore, but not to his face -- shot down eighteen Japanese airplanes. At twenty-one years of age, the Air Force transferred him from the 78th and made him the squadron leader of the 45th. In fact, the 78th produced many of the leaders for the other fighter squadrons.
When President Roosevelt arrived in Hawaii on a destroyer in 1944 to meet with General MacArthur, headquarters called the 78th to put on an air show. They told Jim Tapp, "Pick a wing man and go up and do an hour show for the President."
Jim chose me. "Yellin," he said, "let's go. Get on my wing and don't get off If you get off, you'll be sorry you ever flew."
We were flying from a golf course at Schofield Barracks in Hawaii. Jim and I took off in formation, and I never left his wing. We buzzed the destroyer, we did lazy eights, rolls, and loops; anything you could do in a fighter plane, we did -- in perfect formation. We put on a fantastic show for President Roosevelt.
The members of the 78th shared a camaraderie and a sense of purpose that continues to link us together, even fifty years after the war.
One of the customs that set us apart was our commander's insistence that rank be left at the door of the Officers' Club. This was highly unusual in the military, which is ruled by a virtual caste system based on rank. Our rule was that no officer could enter while wearing signs of his rank "Gook shirts" -- colorful Hawaiian prints -- were the only uniform permitted. This gave us all a chance, seldom available otherwise, to fraternize with higher ranking officers on a common level.
Most evenings were spent in our Officers' Club. Whatever romantic image that term may conjure up, the reality was a shack located in the woods of Haliewa. For entertainment, we didn't have dance bands and pretty girls; we had card games and conversation and for some, drinking.
Jack Patterson, one of the cadets from Luke Field, was from Hawaii. Jack led us on several weekend escapades into Waikiki. But even on our time off, we carried gas masks and wore our sidearm.
On March 10, 1944, we were on a gunnery mission fifty miles off Kahuka Point. I was at 12,000 feet making an overhead pass at a tow target when my engine went out of control. It raced past the "red line" to 5,000 rpm in a split second and then froze. I had no choice but to bail out. At 8,000 feet I trimmed the nose down, cleared my seat belt and shoulder harness, rolled back the canopy and turned the plane down. I popped the stick and was flicked out of aircraft at 230 mph. The rip cord came free in my hand when I grabbed it. I thought the chute had failed!
It hadn't. I came to a sudden, abrupt, and painful stop in midair. When I looked up at the canopy I was hanging from, it looked about the size of a dime.
All parachutes used in over-water flight were equipped with life rafts. These were packed into the seat of the chute and the cover had to be released before you reached the water. I pushed out of the chute at what I thought was five or ten feet above the waves. It turned out to be more like twenty or thirty! The impact flipped me over backwards, breaking cord on my Mae West, my life preserver. When I inflated it, my head was pushed backwards, into the water, and I had to struggle to keep from drowning.
I eventually got the life raft out safely, climbed into it, and then spent nine hours bobbing about in the ocean watching out for sharks, although there was; nothing much I could have done if any had appeared. Finally, a crash boat from Honolulu reached me:: Pilots from my squadron had kept me in sight along and directed the rescue ship. I didn't get back the base until two in the morning.
Exhausted, I went right to sleep. Four hours later, I was awakened and told to fly a plane back over the ocean. I had difficulty starting the engine. The crew chief climbed on the wing, leaned into the cockpit and turned on the mag switch. When it did start I smelled an unusually strong odor of gas. I was frightened and didn't want to fly but I was ordered to, so I did. The night cured me of any fear that might have developed if I had been given time to think about what had happened.
When I bailed out, I did everything automatically. There had been no training for it, only discussions of what to do under every conceivable circumstance. Few men who bailed out of fighters actually survived. Some hit the tail of the plane when they left the cock- pit. Others, we assume, were hit on the side of their heads by the shroud lines and knocked unconscious. Survivors of bailouts described both of these events.
A year after I bailed out, I told a group of new pilots about my experience. One of the men, Walt Kreinman, had his plane shot up on a mission over Tokyo. Reacting as I had instructed him, he managed to get out safely from his burning P-51 Mustang at a very low altitude. No one saw him bail out and he was reported killed in action. However, he was picked up by a submarine a few hours later and taken back to Guam.
Many years later, on a Sunday afternoon, my telephone rang and I was asked, "Is this Jerry Yellin!" When I replied, "It is," the tone on the other end of the phone became quite excited. It was Walt Kreinman calling. He told me he had been asking my whereabouts for years and had finally gotten my telephone number at the first 78th reunion he attended the previous week. He was calling to thank me for giving him a wife, children, grandchildren, and forty three years of living. I didn't know what he was he was talking about. He explained that when he was hit on mission over Tokyo, he had about three seconds to out of his plane before it exploded. If it hadn't been for me telling him to practice bailing out in his mind until he could do it without thinking, he would not have lived. He just wanted me to know how grateful he and his family were to me. I was touched by his gratitude.
A few months after my bail-out, I traded my Curtis P-40K Kitty Hawk for a Republic P-47D Thunderbolt. A big plane, nearly twice the weight of a P-40. It was dubbed "the Jug." Most of the P-47s flew well, but a few still had tools rattling around inside the fuselage, left by some factory worker. From a performance standpoint, the P-47 far exceeded the P-40. It was faster, could climb quicker, had better range and altitude, and greater firepower. One of its vices was a tendency to go into a hat spin, which was invariably fatal.
One time, in a test dive in a Jug, I hit 580 mph. I felt the vibrations caused by compressed air in front of the wings. I knew that if I didn't react immediately, the nose of the plane would start to tuck under and I wouldn't be able to pull out. I fired the guns, gave it full throttle, and hit the water injection to get the nose up. I had started into the dive at 40,000 feet and managed to pull out at 10,000 feet. It was a close call.
A few days after getting our Jugs, I heard Ed Green over the radio shouting, "Mayday! Mayday! I'm in a flat spin and can't get out!"
I heard Merrill, his classmate and buddy, pleading, "Jump, Ed! Jump!"
Then there was silence. We searched the area for days looking for oil slicks. We found none and finally abandoned the search.
Ed was the first of my close friends to be killed. We were ballplayers together on our squadron softball team. He played first base and I played second. Losing him was a shock. He was a team leader, always giving encouragement to the ball club no matter what the score. And he was usually the first to take a new pilot under his wing and to teach him the ropes. At least that is what he did for me. And now, he was gone, not transferred, but gone forever.
A memorial service was held, then we continued with our scheduled training. That's how it was in war time.
Shortly after Ed's death we received our first P- 51D-20-NA North American Mustang, and by year's end there were only a few P-47s left.
The P-51D looked and felt like a fighter should, small (8000 pounds empty) with beautiful lines. It responded to the controls instantly and, with a new, high speed wing, it was a match in maneuverability for the Zero, a Japanese fighter plane. The Mustang, with a 1650 hp Packard-built Rolls Royce Merlin engine, was the fastest piston plane of its time. It could sustain 400 mph in straight and level flight. Critical to the long range mission, it held 269 gallons of fuel internally and two 100 gallon external wing tanks. Though not nearly as rugged as the Jug, it was described "like a gazelle compared to a water buffalo." It handled differently from the 47 and we had a lot to learn. It was airplane that we would fly in against the Japanese.
In December 1944, we finally headed into combat. Not until we had put to sea did we learn of our actual destination: Iwo Jima.
On the fifteen-day boat trip to Guam, we lived luxuriously, by Army standards. We slept on linen sheets, ate with real silver, dined on roasts, steaks, and turkey every night, watched movies and played volley- ball in a huge elevator. When we arrived at Guam in mid-January 1945, we off-loaded the Mustangs and flew from there to Saipan, to await our part in the on and capture of Iwo Jima.
Iwo Jima is an eight square mile volcanic island, eight hundred miles south of mainland Japan. From the air it looks like a giant manta ray sleeping in the Ocean. A line drawn on a map from Guam to Too would almost bisect Iwo. General "Hap" Arnold, Commander-in-Chief of the Army Air Corps, decided early in the war that strategic bombing of Japan would require the capture of Iwo.
He was right. In American hands, Iwo served three important purposes. It was used as a jumping-off place for fighters to escort the B-29 bombers; it eliminated the early sighting of the B-29s by the Japanese and the warning of raids on Japan; and it provided an emergency landing area for crippled bombers returning from the mainland. All of the land-based fighter missions over Japan would originate oil Iwo. By the time the war ended, 2,400 crippled B-29s had also landed there, saving the lives of 27,000 American airmen.
But first Iwo had to be taken. The Marines had begun the invasion on February 19, 1945. By early March they had captured half of the island. The Japanese remained dug in on the northern half of Iwo. It would be months before the entire island was captured. By the time the island was secure several months later, 26,000 men had been killed: 20,000 Japanese and 6,000 Americans.
On March 7 I new from Saipan to Iwo Jima with the Fifteenth Fighter group. I was in the heart of the war for the first time since enlisting. The island had been ravaged by bombs and heavy shells; fires were burning; smoke was thick in the air. On the side of the runway, piles of Japanese bodies were barely covered by mounds of earth.
The air was filled with the sickening, heavy, unbearable smell of death. It was overwhelming. I have lived with that smell every day of my life since then. You never get rid of it. It's like having cigarette smoke embedded in a wool jacket; you put the jacket on, and you smell it. The smell of death rarely leaves me.
That day, we dug foxholes, ate our K rations, and crawled into the ground as soon as it got dark. The sound of machine guns and mortars echoed through- out the night.
The next morning we new our first mission. Immediately after take off, we were strafing enemy troops. It became our daily routine to strafe for the Marines on Iwo, and then fly to nearby Chichi Jima. We carried two 50-pound bombs to dive bomb and strafe the harbor and airfield there. There was always antiaircraft flak, and we sustained damage and some losses. Despite the danger, I was glad to finally be fighting the Japanese.
I have many memories of Iwo that were not connected to the fighting.
One of the first officers I spoke to when we arrived on Iwo was Doc Lewis, our flight surgeon. Doc had a great sense of humor but was terribly bored with life as "family" doctor for our squadron. While we were in Hawaii, he used to stand at the end of the flight line and kid us, saying things like, "I wish I had a good accident so I could see some blood and broken bones. I'm tired of treating sore throats, and ingrown toenails, and athlete's foot. . . Come on you guys, have a good accident$ He was only kidding, of course. We were his boys and he suffered terribly when one of us was hurt or lost.
Before we left Hawaii, Doc was assigned to a hospital ship for the invasion of Iwo Jima. When we landed on Iwo and saw him again, his playfulness was gone. He looked older, tired, something was different about Doc from that day forward. Without going into detail, he told us he had seen all he needed of the terrible bloodshed, the dead and wounded Marines, the suffering. When he greeted us, he said, "I take it all back. I wish I could go back to treating sore throats."
We were never far from the front on Iwo. The Marines were under pressure at all times. Their gains were made in yards, one at a time. Several weeks after we landed, we had a respite from the war. One came with the arrival on Iwo of a group of performers from a big musical production in New York, sponsored by the USO, "Winged Victory." The cast from the original show was broken down into smaller groups of players called "Winged Pigeons," and they went around the world entertaining servicemen.
An accordionist, a singer, and a dancer spent a day entertaining us on Iwo. The accordionist was a lovely young woman. After the performance held on a makeshift stage on the runway, I talked to her. She was the first girl I had spoken to in a long time. We walked to a bombed-out Japanese bunker near the field and sat on top of it for an hour or more talking.
While we were together, I was completely detached from the war. We talked about her music. When she asked me if I had a girl friend, I told her about Doris. I remember asking her to call Doris for me when she returned to the States. I don't know if she did. I was impressed that women like her made nips into combat zones to entertain the troops. There were no accommodations for them on Iwo, so they flew back to Guam after several performances, including a few closer to the fighting than our airfield.
When it was time for her to leave, she signed my "short snorter" (a dollar bill signed by the first person who saluted us on the day of our commission). I still remember her name, Pat Meisenger, and the fact that she lived in Washington State.
As I sat in my living room remembering the war, I could see her and feel her presence, the khaki blouse and pants, the smell of her perfume, her soft voice.
Each of us had dug a foxhole when we landed on Iwo, but the ground of officers had more rime than the pilots to enhance their living quarters. Max Marshall, the Armament Officer, and Joe Delahunty, the Adjutant, shared a hole. They found a method of "extracting" wooden planks from the Navy and lined their foxhole with them. They even created shelves for their cans of rations.
One night, in the middle of a mortar attack, Max cried out "I'm hit! I'm hit!" Doc Lewis rushed over, then started laughing so hard he could hardly contain himself. A piece of shrapnel had hit a can of beans on the shelf, and the beans had leaked onto Max's shoulder. He had reached up, felt something sticky, thought it was blood, and started to shout. Max never lived it down. He was a good friend, an important member of he squadron because he was responsible for arming our fighters. What we thought of as an airplane, he thought of as a gun platform.
On a mission over Atsugi, I started down to strafe a hangar, fired my guns, then turned toward an airplane attempting to take off. As I came in range, I pulled the trigger, and not one gun fired. There I was in a position to kill an enemy, but I didn't have any guns that fired. My anger cooled on the long flight home. Max and I had a serious discussion about what happened. A few days later he informed me that he had loaded a new batch of ammunition into my plane without first testing it, and it was all defective.
One morning in early April, Doc Lipshitz, our group dentist, came up to me and said, "grab your helmet and get in my Jeep."
"Where are we going!" I asked over the roar of the motor, as we headed for the foothills of Mount Suribachi.
"To a Seder," he shouted back.
I thought he was joking. It was Passover season, but the idea of a Seder seemed too incongruous there on this war-torn island in the Pacific.
It turned out to be true. The Marines had arranged for a shipment of matzos to be brought. ashore and an altar to be set up, under heavy guard. A Marine Chaplain conducted a short ceremony in Hebrew, while all the Jewish soldiers who had gathered listened from their foxholes. The rhythm of his chanting rose and fell, sometimes clear, sometimes inaudible below the sounds of the machine gun fire and the boom of the big guns shelling the shore from the sea.
A Seder is generally quite long and accompanied by specific foods, such as matzos, a flat, unleavened bread, symbolic of the hasty flight from Egypt by the Hebrew slaves. Our ceremony was short, but, because of the setting, it was intense and moving. I hadn't observed my religion back home, before the war. But that Seder meant a lot to me and to all the men who attended it. I thought it spoke well for our military to arrange this ceremony in the middle of the fierce fighting.
After the ceremony most of the Marines returned to the front line units and more fighting, while Doc and I went back to our flight area. Later that afternoon I flew a patrol mission.
War was a twenty-four hour, seven-day-a-week occupation. The only rituals or observances were Sunday prayers for Christians at the portable altar and Friday night services for the Jews in a foxhole. We held memorial services for the dead when we knew that someone was not coming back.
One day a P-47 that had been badly shot up over Japan needed to make an emergency landing. They didn't want the pilot to make a belly landing and tear up the asphalt runway on the second airfield; that run- way was used for emergency landings for the heavy B- 29 bombers. So they diverted him to make his crash landing on the dirt runway of the number one field.
When you landed a fighter, you routinely slid the canopy back, so that you could get out quickly in case of an emergency. This P-47 was so badly shot up that the pilot couldn't get his wheels down or his canopy open.
As he made a belly landing the airplane veered off to the left, hit an embankment, and caught on fire. We saw the pilot struggling to get out. Before the crash crew could get to him, the airplane went up in flames. We had to stand and watch him burn, struggling to get out of his plane. I walked away, thankful that it wasn't me and never gave it another thought. As I think about that now it sounds so heartless. But then, had we dwelt on all of the conditions that could hap- pen to us, none of us would have ever flown again.
A weather condition on Iwo Jima called a temperature inversion caused a lot of problems, and one of the more miraculous events I saw during the war as well.
In April and May, the temperature of the ocean and the temperature of the land was the same. This caused a thick ground fog, particularly in the mornings. Since the fog only reached up ten to fifteen feet off the ground, it didn't prevent us from taking off, because in a few seconds, we were above it. But we couldn't land in it. It was so thick that, from above, we couldn't see the ground to find the runway. We couldn't take a chance flying into it, because we never knew how deep the fog was, where it would end, or when we would suddenly hit the ground.
On our missions to the Japanese mainland, we would take off in the early morning ground fog and be gone for seven or eight hours. Usually the sun would have burned off the fog by the time we got back. But on one mission, the fog didn't burn off by the after- noon. As the planes began their return, visibility was clear until they neared Iwo. Below them the island was covered by a solid blanket of impenetrable fog.
A decision was made that every pilot on the mission would bail out as he reached the island, and those of us on the ground would be posted along the shore at fifty foot intervals, to act as spotters. We would try to see parachutes coming down, or splashes as men hit the water, so that we could direct the rescue efforts. AU the planes would be lost, but the pilots would be saved.
Just a few minutes before the planes reached Iwo Jima the fog suddenly lifted. Half an hour after the planes landed, the fog was back It happened just like that.
By mid-July, Japanese fighter opposition virtually disappeared. Our intelligence forces told us that the enemy were saving precious fuel and planes to repel the invasion they knew was imminent. We spent our time over Japan searching for targets to rocket and strafe. On several of these missions, I shot up the shipyards at Numazu and strafed Atsugi. On one mission, I started down to strafe a train. As I began my run, the smoke from the trains engine belched out faster and faster as the engineer poured on more power. Before I fired one round at the speeding train, it came to a curve and couldn't make the turn. It kept going straight, right off the tracks.
Our preferred tactic against the more maneuverable Japanese airplanes was to make a high speed pass and break down and away to the right. That way we could escape, climb at high speeds, and attack again. The Zero, with its large, radial engine, could not turn to the right at speeds above 300 mph. Below that speed, it could turn inside of the P-51.
One afternoon, I hit a Zero pretty badly. As I closed in, I saw that the plane was falling apart. The pilot bailed out and came within a few feet, literally, of hitting my airplane. I could see the startled expression on the pilot's face, the disbelief that this was happening to him. For a split second he floated by me, hanging in the air, his plane in flames and shattering in the background. I didn't see his chute open, I was going too fast and really wasn't concerned. His plane was on fire and that is what mattered.
We knew the invasion of Japan would happen soon, and that casualties would be high. Our intelligence people were estimating that more than one million Americans would be killed or wounded. Our motto became "Back Alive in '45." But many of my friends would not be able to live up to the motto.
Copyright 1995, Jerry Yellin. Reprinted with the permission of the copyright holder.