I did a shot by shot color restoration of this video. Narrated by Joseph Cotton (Citizen Kane, The Third Man). This color film follows the career of a Navy cadet from enlistment soon after Pearl Harbor through Primary and Advanced Flight Training and on into combat. Especially memorable are the many scenes shot at Pensacola Naval Air Station flight school. You'll see all aspects of cadet training, including flight, gunnery, navigation and bombing, along with a generous serving of cadet social life. This film is also notable for extensive, rare color footage of a wide variety of USN training and early war combat aircraft, including Vought OS2U Kingfisher catapult float planes, Boeing N2S Kaydets, North American SNJs, Vultee SNV-1 Valiants, Brewster F2A Buffaloes and SB2A Buccaneers in flight, Consolidated PBY Catalinas and Grumman F4F Wildcats operating off a carrier deck.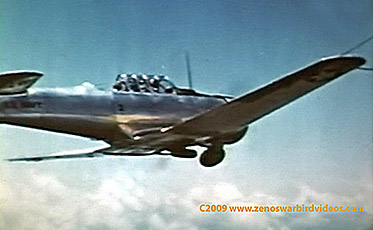 Get "Naval Aviation Cadet" full screen, high resolution on our

Winning Your Wings DVD

U.S. World War II Aviation Training

along with "Cadet Classification,' "Wings Up," and

"Winning Your Wings."